Throughout my internship, I had extensive exposure to the fast-paced startup world functioning in Vietnam's fiercely competitive environment. This experience provided me with priceless knowledge and lessons that would surely influence the course of my professional life.
INTRODUCTION
Introduction of the host company
My name is Hong Ngoc. I first heard of JobHopin through several career fairs and advertisements in Hanoi, then by VinUniversity itself when referring to students looking for job openings. Before I officially applied for the Business Intelligence position, all I was aware of is their involvement in the HR tech market using generative AI. The more I investigated, the more intrigued I became.
Under the direction of CEO Kevin, JobHopin continued to expand and change, and it recognized a significant opportunity to make a substantial impact in the field of educational technology. As a partner utilizing Jobhopin's platform in the Education Tech industry, Skola recognized the potential to address the skills gap between job seekers and market demands by harnessing JobHopin's expertise in AI and data-driven solutions. Skola Academy was established, taking inspiration from influential tech giants that have disrupted traditional sectors and revolutionized education. In shaping its current initiatives, draws inspiration from innovative online education platforms like Coursera and Udacity, which are renowned for their groundbreaking approaches. With the support from JobHopin, Skola seeks to transform the education industry by offering accessible, pertinent, and modern training, much like Coursera's dedication to democratizing education and Udacity's focus on skill-based learning.
Their upcoming Talent Camp, with heavy focus on Entrepreneurship and Web3, is to be hosted near VinUniversity and endorsed by our own faculty.
Skola Talent Camp is a training approach for young talents who desire to advance in their careers
Overview of the internship
I was given a variety of assignments throughout my internship that gave me the opportunity to learn about the business' operations firsthand. These tasks fall under several important categories, including:
Introducing Major Partners and Communicating with Them:
Helping with the onboarding of significant partners was one of my main duties. This involves organizing the running of product demonstrations for the main event of the quarter. I was able to interact with important partners as a result and make sure that product demos went off without a hitch. I also had a key part in monitoring the marketing and product engagement performance, which gave us important information about how effective our initiatives were.
Analyzing data and monitoring performance:
Data extraction and tracking to produce performance dashboards for various business teams and strategic projects was a big component of my employment. This required careful data collection and analysis in order to produce enlightening dashboards that supported decision-making. To build the framework for upcoming product development, I also conducted market research on similar items and content. This comparative market research covered business-supporting instruments, giving us a full picture of our market environment.
Assistance for Professional Teams:
In order to ensure the efficient advancement of the work of various business teams, I also played a supportive function. This included duties like helping to monitor job progress, speaking with important partners about current product deals and clients, and assisting with data extraction, inputting, and reporting for marketing campaigns. To enable smooth teamwork and collaboration, these roles required effective coordination and communication abilities.
Data manipulation and enhancement
I analyzed the complete data system to clean and improve data records, assuring data quality and dependability, building on prior efforts. I also assisted with data extraction and manipulation for a number of projects, which improved the effectiveness of all data-related work.
PROBLEM/PROJECT STATEMENT
One of the most notable benefits of my internship was my aptitude for picking up new ideas rapidly and carrying out assignments gracefully. Due to this trait, my onboarding was sped up and I was given important duties, including access to the company's private dataset. The obligation to protect the integrity and security of this priceless data presented a substantial challenge, though, along with this potential. It was a sobering reminder of the significance of data security and moral considerations.
Being able to manage multiple projects from various departments at once was another feature of my internship that was both gratifying and difficult. This demonstrated my flexibility and adaptability, enabling me to effectively participate across numerous departments inside the firm. To successfully juggle duties across various divisions, careful planning and effective resource allocation—including time and energy management on my part—were essential. This experience made me more aware of the need of project management and resource efficiency, two skills that will be helpful to me in my future professional aspirations.
RECOMMENDATIONS
Thinking carefully about answers to the problems I ran into during my internship can result in increased job satisfaction, greater development of technical skills, and improved soft skills. In order to effectively address these concerns, I offer two strategic proposals based on in-depth study and accurate data.
Extensive Pre-Intern Research
The divergence between my initial assumptions and the real job obligations was one of the main problems I encountered during my internship. It is crucial to develop a thorough pre-internship study and communication strategy in order to address this issue and guarantee that future interns have a better grasp of their tasks.
Prior to entering the organization, interns should have access to a multitude of resources about the firm and its industry. Company reports, case studies, and analysis of market trends may fall under this category. I will be better able to comprehend the organization's objectives, culture, and market dynamics if they are equipped with this expertise.
I'll aggressively look for a mentor or boss who can offer direction in the first several weeks of the internship. To make sure that I am progressing with my assignments and to address any issues or queries that may emerge, regular check-ins with my mentor will be necessary. I'll create an open feedback loop to let my superiors know about my experiences and expectations. This involves giving consistent feedback about my internship experience so that it can be improved and so that I can take full advantage of the opportunity.
Development of Personalized Soft Skills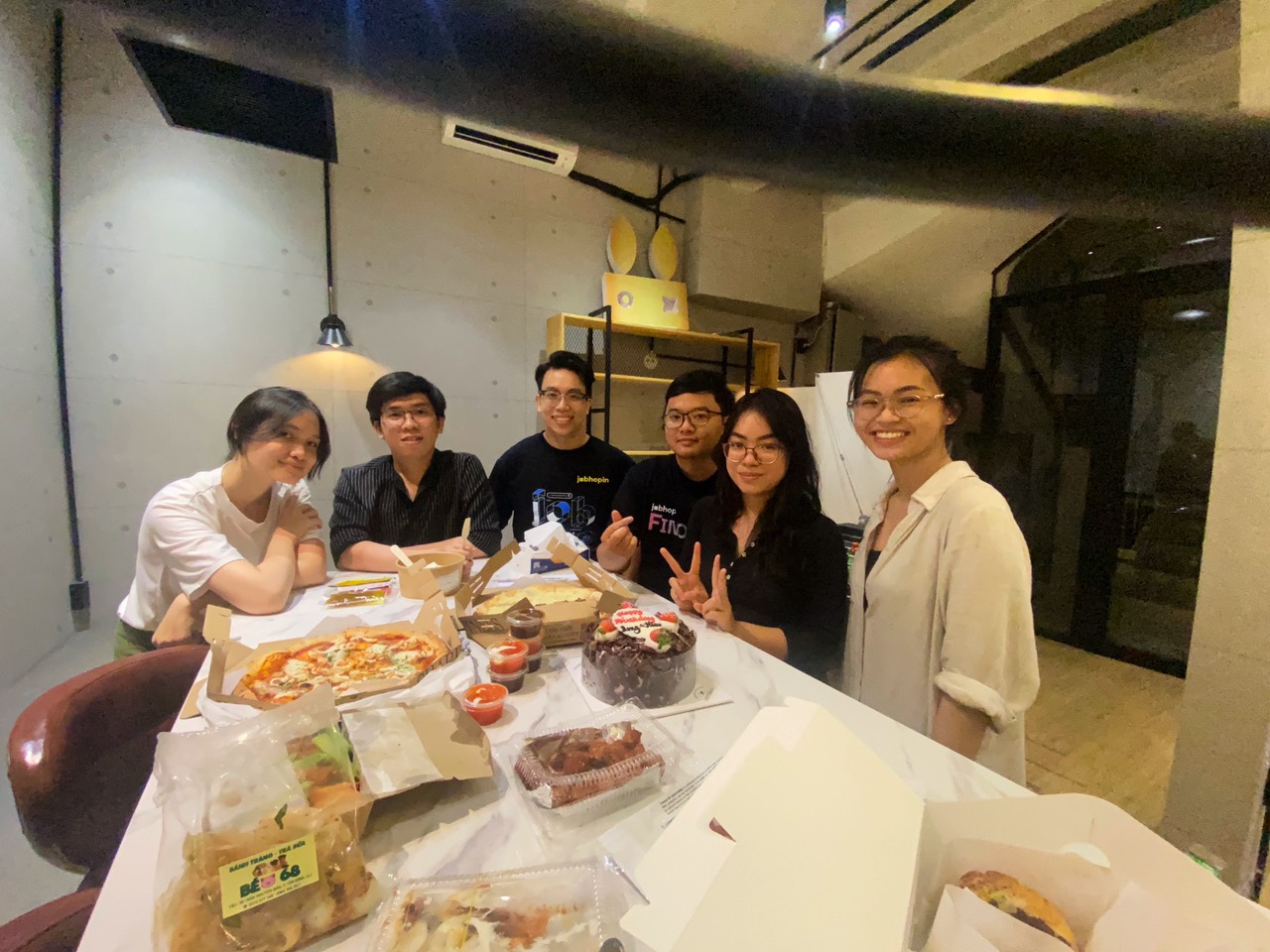 Me (outer right corner) and my teammates
For both my personal development and professional success, it is crucial that I develop my soft skills, which include networking, effective communication, presentation skills, and time management. These transferable skills have a big impact on my career progress and job success.
In order to improve my soft skills, I will actively look for possibilities for self-directed learning by participating in seminars, webinars, and online courses. Resources on public speaking, efficient communication, time management, and interpersonal skills will be part of this.
I'll actively look for mentors or coaches, both inside and outside the company, who have experience in the particular soft skills fields I want to hone. Their advice, criticism, and individualized coaching can significantly help me improve my soft skills.
CONCLUSION
Overall, my internship gave me a thorough education in the workings of a up-and-coming Vietnamese company, the development of SaaS, the complexities of departmental structure, and the value of data analysis. These insights will surely come in handy when I begin my career adventure in the rapidly developing tech sector.