You know the heart-dropped-to-your-stomach feeling when you realize that the current years-long relationship you have is no longer working because you both have grown apart with different directions and goals? Even though you have dedicated so much time and effort to this relationship, you have come so far only to not end up where you wanted the relationship to be. But it is important to know that you have to put yourself and your happiness first. Therefore, learn to accept the harsh truth and walk away wishing them nothing but the best and go find yourself a different journey. So, how to quit gracefully?
When we say relationships here, we do not just mean the romance, but also the marriage, the friendships and as weird as this may sound, the connection you have with your current company. You have worked for quite a long time with this company. You have sacrificed your personal time and hobbies for them. Yet, you are not recognized the way that you wanted to or you find long into your career that this is not what you want. Many situations may happen that lead one to ending the time they have with a company, whether it be work or personal issues. What really matters is how you, as an employee, deal with this exit. People are taught how to get a job, not how to leave one. So we are here to give you a few "tips" on how to quit gracefully and wish the company nothing but success.
1. Don't blindside your manager
Schedule a meeting with your boss before you put anything in writing. When you schedule the meeting, tell your boss you have something important to discuss, but don't explicitly say you're quitting. The meeting should take place face-to-face or over a video call as a professional courtesy.
Your boss should be the first to know about the departure. While it might be tempting to tell your work friends, some of whom might know you interviewed elsewhere, this can backfire. You really don't want your boss to find out about this news through the grapevine, it can really destroy any future of a decent polite relationship you can have with your boss. It can also be embarrassing for the manager, who then has to scramble to respond. It is the lasting impact you can have with your company and your boss and more importantly, a gesture of respect that you could have for them and vice versa.
Prepare for a range of reactions and be ready to deal with each politely and calmly. Your boss could have suspected this or they could be totally caught off-guard.
>> Read more: Love vs. Career: Can women have both?
2. Keep your resignation letter simple
Your resignation letter is primarily meant to serve as proof in your HR file that you left the company because it serves as a follow-up to the conversation you have with your boss, less is more. Most resignation letters run only a few sentences, and are addressed directly to your direct supervisor, not to their boss or the HR manager.
Make sure you're locked into your decision to resign before hitting send. Once it's sent, the company will begin its offboarding process. There really is no going back.
3. If you don't have anything nice to say, don't say much
There are many approaches when one decides to quit their job. Some people spell out every reason they're leaving, others concisely state when their last day will be and some take the time to cheerfully reflect on their time with the company. Of course, those who leave gracefully with positivity and kind words are always more loved and seen in a better light.
You don't have to tell your employer what you're doing after you leave the company or why you're moving on if you don't feel comfortable. Just a decent thank you for all the opportunities, experience and lessons then move on.
>> Read more: Mental Health and Wellbeing in the Workplace
If you can't muster the energy to write a positive resignation letter, just one sentence that says you are resigning, followed by your intended last day is enough.
While resignation may not carry as many emotions and reasons as a breakup, treat it like one. What kind of ex partner do you want to be viewed as? A respectful and mature one or something of the opposite? It is important to keep your demeanor and treat this with significance and respect because for some, the relationship you have with your company lasts even longer than your personal ones.
4. Give two weeks' notice — at least
Even if you feel like you can't spend another minute at your workplace, you still ponder how to quit gracefully. Experts say the age-old adage holds true. The customary thing to do is give at least two weeks' notice, but those in executive positions often give more time to allow the company the chance to find a replacement. For many executive positions, your company may expect a 45-day's notice.
It is also utterly important that you offer to help put together a transition plan. It can include your current projects, as well as next steps. Include as much detail as you have time for. Whatever position you are in or kind of connection you have with the company or your boss, your leaving will have quite an impact on your company as we all know it is a huge cost to any company with layovers. Therefore, offering to facilitate a transition position for your successor demonstrates that you're being proactive, you care about the organization and will help leave everything on a good note. This is a reflection of you both professionally and personally.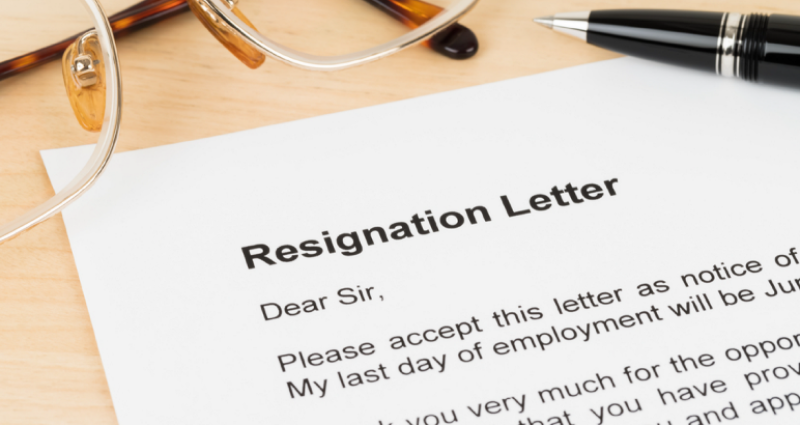 5. Express gratitude
Whether good or bad, your company has given you something worth having. This can be viewed as glass half full or glass half empty with the way that you view the relationship that you have with this organization. Did you learn any lessons from the mistakes, failures or the success, the good stories? Were you given the opportunity to try things out, to experience and meet new people, to gain new skills? The results may vary on the scale of positive or negative but in all situations that you are leaving someone or somewhere, expressing gratitude is the best thing you can do. Start the resignation with "It's been an amazing ride," then go on to show your appreciation for your manager and your company for the opportunity and lessons.
Your resignation letter is the last impression you leave with the company. In certain cases, people who have been terminated for cause have left in such a positive manner that they have been rehired in the future.
6. Let go of your baggage
After you send off your resignation letter, take some time to reflect. Sometimes taking a break between jobs can help you reset. But even if you can't take time off, it's important to let go of any negative feelings you may have about your former job so you don't carry that baggage with you into a new position. If you bring these negative feelings to your new job, it will affect your relationships with your co-workers, as well as anyone who reminds you of your old boss.
Sounds familiar? It is the equivalent to "Don't date someone new when you have not gotten over your ex." As mentioned before, you really should view the resignation the same way you deal with a breakup, but in a more professional way. There will be moments when you ask yourself if you are making the wrong decision and even regret leaving, always remember how unfulfilled and unhappy you were back then and how much you wanted your life to change. It may take some time and lots of self-reflection, but they are all the necessary steps to take to ensure your future happiness.
You won't be able to thrive in your new career and enjoy this new path you're taking when you have not let go of all the obstacles that dragged you down before. Learn to start fresh and completely baggage-free.
Bibliography:
Pohle, A. (2021, June 13). How to Quit Your Job Gracefully. The Wall Street Journal. https://www.wsj.com/articles/how-to-quit-your-job-gracefully-11623600002.
The JobHopin team