One of the biggest conversations happening in human resources right now is about how to build a workforce that is agile enough to adapt to the ever-changing world of work. It's a conversation that began before the COVID-19 pandemic due to increased automation in workplaces and the advent of remote work.
"The companies that will emerge from the COVID-19 crisis in strong positions are those that make investments in 'future-proofing' their workforce and provide their employees with upskilling opportunities to ensure they are resilient as the economy evolves," says Maria Flynn, president and CEO at Jobs for the Future.
But with so much else going on in the world of work and the ongoing economic uncertainty many businesses are experiencing during the pandemic, is such an approach to talent management realistic? Is now the right time to implement strategies of worker upskilling and reskilling? The short answer is yes. While human capital remains to be the most expensive cost to any company, human investment is always the right investment.
>>> Read more: New Employee Onboarding Experience: Remote Edition

The truth is that a widening talent gap has become one of the biggest issues driving the need to improve and increase the skills of current employees. According to a 2020 survey by McKinsey & Company, 87 percent of executives and managers report they are either currently experiencing talent gaps or expect to be experiencing them in the near future. Not only that, the talent gap is being partially fueled by the ever-changing nature of work. Automation, digitization, and remote work (among other factors) are contributing to significant changes in how work is done and the skills needed to perform jobs. Alongside these two factors, the financial constraints ushered by companies have forced them to closely consider every dollar they spent. Managers are focused more than ever to retrain current employees rather than hire new ones as it can cost six times more to hire externally than to build new skills internally. This explains why 68 percent of organizations have sustained their employee training budgets and six percent have increased their budgets for reskilling and upskilling employees during the pandemic, as reported in a recent survey by the Society for Human Resource Management.
While there is no one-size-fits-all program, it's important for companies to learn the different approaches to training. Firstly, upskilling is training that enhances a person's performance in their current role and prepares them to progress at their jobs. This approach gives employees the skills they need to take on new responsibilities within their position, like being promoted to manager in their department. Secondly, reskilling is training that helps employees shift into new roles or adjust to significant changes in their current roles. And finally, cross-training (or cross-skilling) prepares employees to take on additional work related to their current roles. Cross-trained workers can fill in at other positions within their departments.
Investment in training programs needs to be guaranteed that it will be effective and useful to employees. You can't just pick a training program off the internet, put your staff in front of a computer to listen to a presentation, and then expect them to remember or use what they've learned. There are a few strategies to create learning and development programs that would work:
Establish a culture of learning
Successful training programs require adopting a growth mindset and supporting company-wide learning. This entails fostering an environment in which everyone recognizes that learning is a continuous process rather than a one-time event or presentation. It's all about inspiring people to want to study and grow. Training regimens will be more effective in the long run if everyone truly embraces this.
Offer personalized program
Both the individual and the corporation should gain from training. Not everyone requires the same set of abilities or training. This is due to the fact that they all have diverse backgrounds and positions, as well as varied career ambitions and paths. Use those ambitions to build individual training programs rather than group training, which may benefit some but is a waste of time for others.
The delivery method is an important part of a customised program. Some people prefer webinars to live training and hands-on experiences, while others prefer both. Collect data and utilize it to design customized learning programs that employees want to take part in.
A successful example would have to be AT&T's customized skills development programs. It's a billion dollar, multi-year venture with elements that practically any corporation can build. The program focuses on partnering with online education platforms to provide online learning options for employees. It incorporates individualized learning experiences through a career portal that assists employees in planning their future and identifying skills they need to develop.
Another success story would have to be PWC's accessible and collaborative training programs: the Digital Fitness app and the Digital Lab. The Digital Fitness app allows PwC employees to assess their digital knowledge and create customized learning plans. The Digital Lab allows employees to collaborate and share innovative solutions. It is a democratized platform that uses social and gamification features to incentivize building and sharing of assets with wide applicability. These programs help employees learn new skills and knowledge, while also instigating a learning environment where people can share and help one another.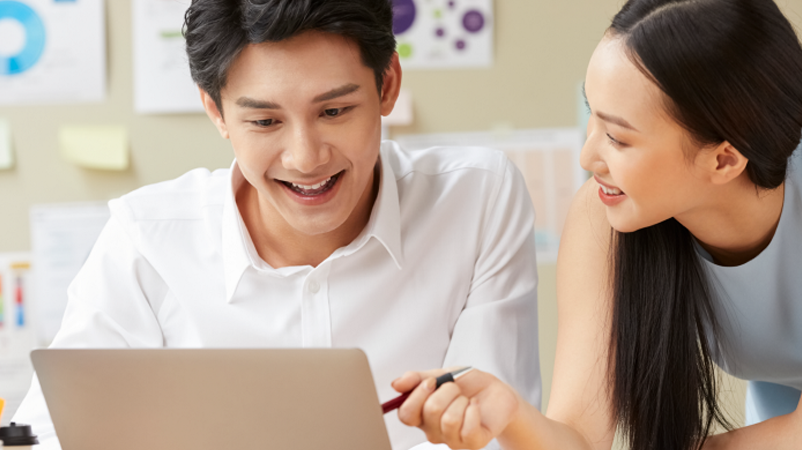 Pair employees with mentors
Assign mentors to employees in order to maintain the notion of continuing training. Employees will be able to witness how the skills they're acquiring are put to use on a daily basis as a result of this. Mentors can help employees retain and apply new abilities by sharing their knowledge with them on a personal level. Finally, mentorship can help to expedite training.
One similar example of this strategy would have to be Amazon's Mechanics and Robotics Apprenticeship program. Employees attend classes and gain on-the-job training as mechatronics and robotics technicians during the two-phase program. When they're through, they'll be in a better position to make more money and advance their careers. Internal mentorship or apprenticeship programs can be cost-efficient ways to upskill employees. By learning on the job, employees learn the practical applications of new skills.
Companies will rely increasingly heavily on upskilling, reskilling, and cross-training their staff as the year progresses in order to respond to quickly changing workplace requirements. Building effective training programs that combine these three approaches to learning will be critical for doing more with less talent.
Interested in Training, Learning & Development department? Find your match now at JobHopin!
The JobHopin Team