The year 2020 has seen a significant and dramatic time for many businesses, small and large alike. Millions of people have changed their daily working routine to a completely different one, in which almost everything happens online. To cope with this challenging time, we need to equip ourselves with a brand new set of skills and knowledge. 
To address this, leading HR experts have gathered through a virtual platform to share their perspectives in the HR Forum event held by RMIT University on December 16, 2020. The discussion came from HR experts and staff from RMIT Vietnam's HR Department, including:
Annie Gale (Director of Human Resources, RMIT Vietnam)
Esther Walker (Manager, Talent Acquisition, RMIT Vietnam)
Mai Nguyen (Managing Director, Navigos Search)
Kevin Nguyen (Founder and CEO, Job Hopin)
Dr Seng Kok (Senior Program Manager, Human Resources Management, RMIT Vietnam)
Let's take a look at what our experts had talked about at the event!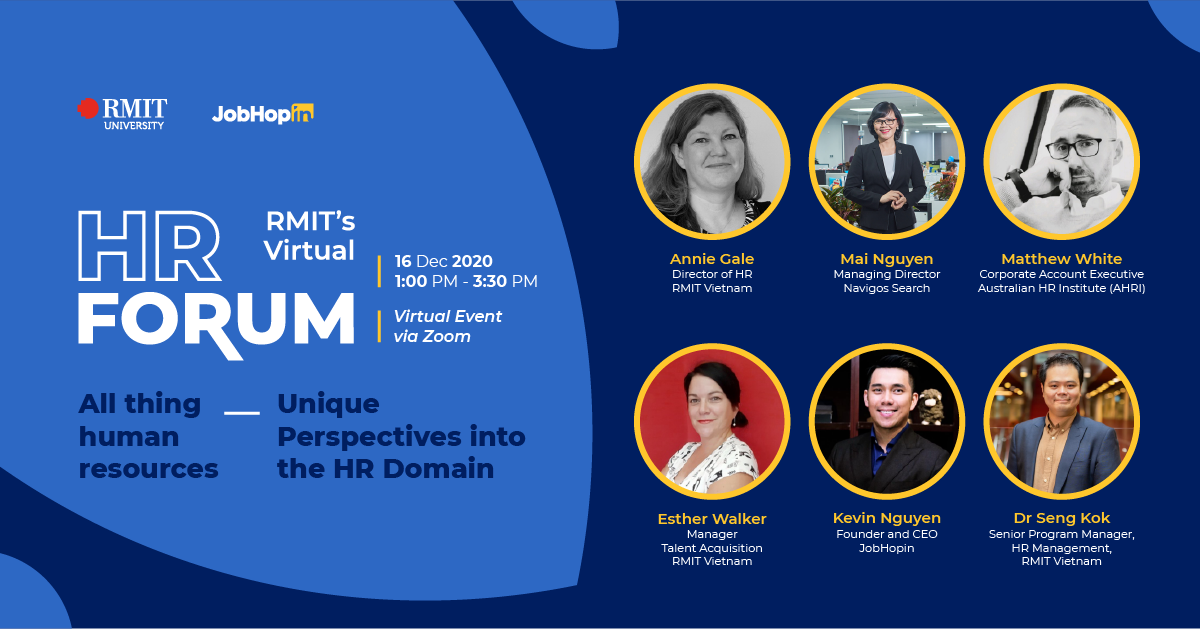 What's changing in the HR industry post-Covid-19?
In just a few months, COVID-19 left millions of people unemployed worldwide. Many are spending more time than ever at home after the outbreaks. However, this pandemic has also offered us a chance to reshape working environments to flexible ones. Our experts stated that employees enjoy working from home since it reduces stress and the need to be at the offices. Moreover, working remotely results in the higher performance and creativity of the employees. On the other hand, employers have to choose between 3 options: continue business as usual but with the risk of spreading illness, shut down or manage remotely. 
The pandemic has also affected talent acquisition in Vietnam. According to the data from Esther Walker, 51% of companies had put talent acquisition on hold as a result of Covid-19. Challenges which most companies face are candidate safety and remote recruiting. Businesses need to enhance their focus on workforce planning and preparing for an unpredictable future. Traditional thinking won't help. Companies need to step up their game and strategy if they want to acquire talent in this competitive time.
Go tech, get tech – Solving the management challenge!
Technology has narrowed down the gap of communication convenience and gave rise to essential apps like Slack, Zoom, etc. Businesses rely heavily on technology, across channels and functions.
As a result, technology has also possessed a powerful impact on Human Resource as well. Innovative technology has changed the way we approach candidates, screen profiles, and store large amounts of data in a simpler way than ever. The flexibility of technology has become a top function, especially after the pandemic, when businesses have decided to recruit remote or overseas workers. 
Came along with the shift in technology was automation. Automation, especially the use of artificial intelligence (AI) and machine learning (ML) is currently a trend in Human Resources, but at the same time, people are doubting it. HR experts stated that we have to realize that HR is not only about paperwork but more than that. The modern HR department also takes care of employees' engagement and HR strategy. Meanwhile, the HR staff must also continue to find alternatives to keep up with new technological changes and trends to find a more effective recruitment solution. With the help of AI and ML, finding talent will be easier for the HR considering AI/ML applications are proven to reduce the ordinary task and keep our focus on the candidates. 
Aiming to be leading the AL/ML technology in Human Resources in Vietnam, JobHopin is shaping the future of work with real-time market analytics and practical recommendations for a smarter recruitment and career management process. Founder Kevin Tung Nguyen stated that with the help of AI/ML, the number of applicants has increased 400 times, and reduced the cost of recruitment up to 85% for many businesses. Bunny AI, the progressive learning machine on the platform, can screen up to 40-50,000 CVs per day, which is 10 times more than human manual screening. These numbers are transparent proof that the right application of technology could overcome the many HR challenges that we are facing. 
The 2020 HR Forum has helped students as well as HR insiders get equipped and expanded their expertise. If you're interested in similar topics like this one, stay tuned for other events in the future and follow JobHopin's blog!
JobHopin Team